ヨークシャープディング(5個入り)〜Yorkshire Puddings (Pack of 5)〜
イギリス発祥の、シュー生地のような食感のパイ。
高温で一気に焼くことで生地の外側は大きく盛り上がり、中心部に窪みが出来上がるのが特徴です。

Originating in England, this pie has a texture similar to puff crust.
Characterized by a significant rise on edge and a hollow in the center due to the high baking temperature.
*Earliest delivery date is 6/14(Wed) (may require more days depending on delivery address).
*Tax included.
*Additional shipping charges may apply, See detail..

About shipping fees
The shipping fee for this item varies by the shipping method.
Yamato Transport

Your delivery status can be checked online.

Regional setting
ヨークシャープディングとは?
What is Yorkshire pudding?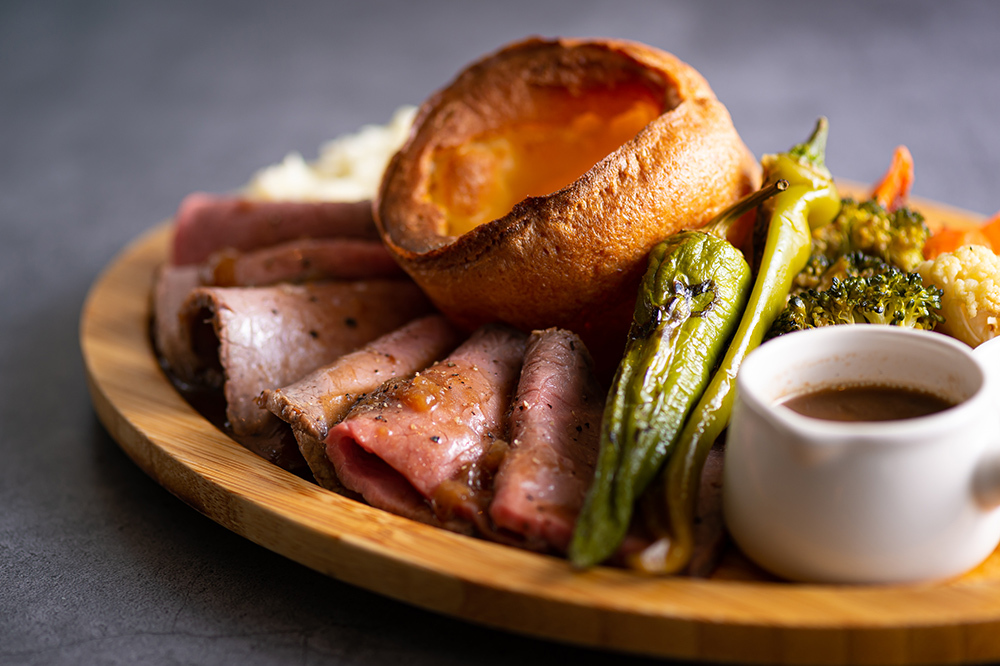 イギリス人にとって欠かせない家庭料理のひとつで、シンプルさゆえあらゆるお料理に合わせることが出来ます。
本来は肉類のローストの付け合わせやパンの代わりとして食されていますが、クラシックなレシピと違い、油の使用も最小限に抑えているためデザートにもご活用いただけます。

Yorkshire pudding is one of the essential home-style food for the English, and its simplicity allows it to be served with all kinds of dishes.
Our Yorkshire puddings can also be used as a dessert not only served as substitutes for bread or side of roast meats in the traditional way, as being made with a minimum amount of oil, unlike the classic recipe.
おすすめの食べ方
Suggested eating
シューアイス
オープンサンド (サーモンとチーズ)
コロネーションチキン
オープンサンド (フムスとオリーブオイル)
・温めたヨークシャープディングの中にお好きなアイスクリームを詰めてシューアイスに
・窪みの中にお好きな具材を詰めてオープンサンドに
・パン代わりとして、シチューやパスタ、カレーのお供に

イギリス料理ほか、当店で提供している料理に合わせて英国パブ気分を味わうのも良し。
シンプルゆえに料理のジャンルを問わず合わせることが出来ます。


・Fill the warmed Yorkshire pudding with your favorite ice cream to make choux ice cream.
・Fill the hollows with your favorite ingredients to make open sandwiches.
・Served as a substitute for bread, as a side to stew, pasta, and curry.

You can also side it with British cuisine or other dishes from our shop for a British pub atmosphere.
The simplicity of this product makes it suitable for all types of food.
お召し上がり方
How to enjoy
焼きたての一番おいしい状態で瞬間冷凍しています。
あらかじめ常温解凍したヨークシャープディングをトースター(900W目安)で2~3分温めると、表面はカリッと、中は柔らかなシュー生地のような食感が楽しめます。
※ 常温解凍のみでも召し上がれます。
※ お使いのトースター機種により多少加熱時間が異なります。

It is delivered as freshly baked and flash-frozen at its best.
Warm the Yorkshire pudding in a toaster (900W) for 2 to 3 minutes after thawing it at room temperature to enjoy the crispy surface and soft puff pastry-like texture inside.
*It can be served simply thawed at room temperature.
*Heating time may vary slightly depending on the toaster model used.
原材料名
Ingredients
小麦粉(国内製造)、牛乳、卵、食用植物油脂、食塩、乳化剤
※含まれるアレルギー成分:小麦・乳成分・卵
※小麦、乳成分、卵、クルミ、大豆、ごま、オレンジ、バナナ、アーモンドを使用した設備で製造しています。

Flour (produced in Japan), milk, eggs, vegetable oil and fat, salt, emulsifier
Allergenic ingredients: wheat, dairy ingredients, egg
*This product is manufactured in facilities that use wheat, dairy ingredients, eggs, walnuts, soybeans, sesame, oranges, bananas, and almonds.
栄養成分 (1個あたり)
Nutrition Facts (per serving)
エネルギー92kcal、タンパク質2.9g、脂質3.9g、炭水化物10.4g、食塩相当量0.2g

Energy 92kcal, Protein 2.9g, Fat 3.9g, Carbohydrate 10.4g, Salt equivalent 0.2g
賞味期限・保存方法
Shelf life and storage
製造日から冷凍保管で60日。
要冷凍(-18度以下)で保存してください。
※賞味期限は涼しい場所で未開封のまま保存した場合に限ります。
※開封後はお早めにお召し上がりください。

60 days in frozen storage from the date of manufacture.
Keep frozen (-18°C or below).
*Shelf life is applicable only when stored unopened and frozen.
*Please consume as soon as possible after opening.